Simple Guide To Enhance Your Life With Emily In Paris
"Sex and the City" has been one of the favorite sitcoms for women of all ages far and wide. The well-written script, beautiful characters, touching stories, appealing outfits caught fans' eyes for over 2 decades. As sad as it might sound, many things have its expiration date. Yet few people are as good as wine still manages to create ahead of time, hence surprise us with a new masterpiece. Darren Star amuses afresh with new "Emily in Paris" comedy-drama, about a quite talented American mademoiselle, who moves to Paris in order to upgrade her career, and finds herself enhancing her life overall. Oh, a charming city on the Seine, how many ballads are sung about you, and movies are written, still, one of the finest ways to tell your story through modern eyes of a stylish brunette lost in your waves of culture, smells of cuisine, and shades of fashion.
We'll try to be fair and square with our Emily in Paris review, hence you'll be able to enjoy every bit of it while watching with girlfriends later on. No spoilers, no muss. Although we couldn't help but notice (and tell about) the deliberate choice of ensembles for characters, each represents personality, brings out the best in detail, thus serving not only hungry for quality show admirers, but also future fashionistas, designers, models, and those simply interested in elegance and grace. How about we glance at the main girl here, Emily? Settled, independent, and 100% not European, she moves to the city of love, passion, and an utterly contrasting approach. Electricity seems to be working well for the Eiffel tower, but be careful with extra stuff you put into the french rosette. Things are shaping up, she carried her luggage on the 5th floor herself, colleagues aren't much into her "go team" way of working, rather try to teach her an old-fashioned way of "doing the job for pleasure", this young lady is changing throughout the entire season, nevertheless, her styles remain to captivate every on-screen appearance. Our guess her favorite stores are Stuart Weitzman Canada and Shopbop, both of them have certainly similar pieces and outlets, therefore everyone will be able to become western European and fall in love with a mysterious outcome.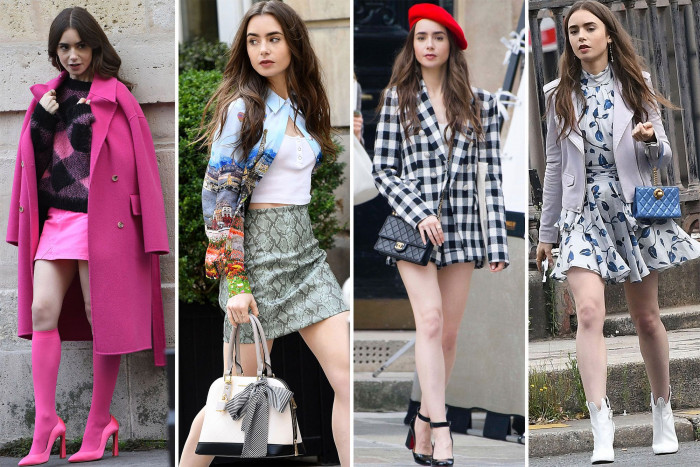 Photo: Lilly Collins as Emily in "Emily in Paris", Netflix
While many young girls would like to be more like a leading young lady, others have warm feelings toward Mindy, a fun and self-sufficient Shanghainese talented singer, who is not only a loyal friend, responsible nanny but also an individual with a unique eye on her own outfits, which she touches with a modern look, and appears like a magnificent 2020 poem, covered in attire from FARFETCH Canada or Coach Outlet.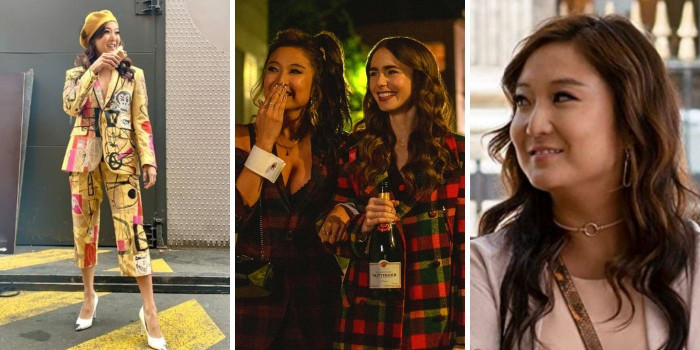 Photo: Emily In Paris: 5 Of Mindy's Best Looks, (& 5 Of Her Worst)
Somehow or another, the cast of Emily in Paris is perfectly fabulous from such many angles. Each person adds flavors of gentle bitterness, humor, passion, and fondness in contemplation of enjoying this colorful meal, while still craving for a dessert with a cherry on top.
Needless to say, nothing can't feel over and above balanced without teammates, who stand right beside whenever a beloved female boss is involved in intriguing life drama, still professionally handles challenges, and looks fantastic during satisfying revenge she takes. Sylvia might bring up a multitude of mixed feelings, but she definitely can't be ignored. The woman knows how to walk the talk inside and out with Asos shop being her right hand, so the impression is made straight away, and the inevitable after-effect is as memorable as her dresses.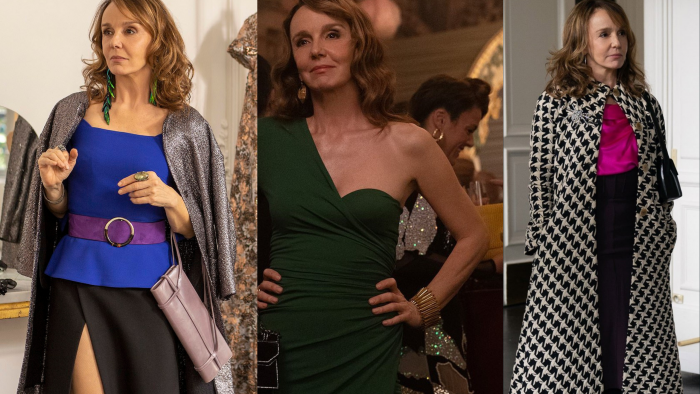 Photo: Philippine Leroy-Beaulieu as Sylvie in "Emily in Paris", Netflix
There is a lot to learn from a 30minute episode: the art of blending in and staying honest with yourself, being a humble and devoted friend, letting oneself loose, or open to opportunities. Relationships are complicated enough, although Camille Emily in Paris teaches the essence of it. Many people can find themselves frustrated when it comes to loved ones, this young female might be surprised which path her love life can take. Beautiful french blond with an open heart and love for champagne allows her 17-year-old brother to get in touch with American culture at its deepest, relishing the consequences in a perfect french manner. Guess, which stores helped her to dress up like a Vogue model?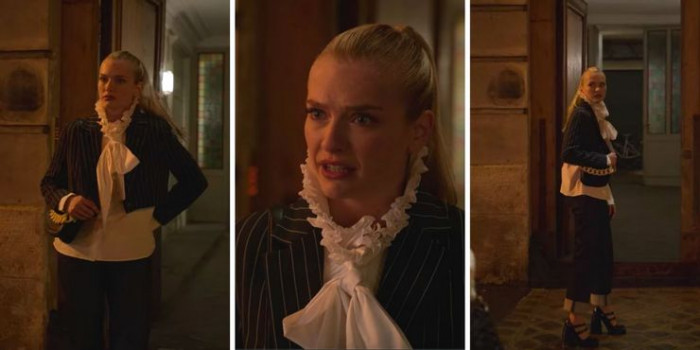 Photo: Camille Razat as Camille "Emily in Paris", Netflix
The last month of fall is approaching, quite a number of people worldwide are feeling a little bit Parisian these days. Melancholy, rainy days, hot chocolates, and pastry are great solutions to dive into this vulnerable state, gently pass it, and be reborn for the upcoming 2021. Time to think about resolutions, presents, promises, and whatnot. Maybe Emily in Paris outfits will blow you away, or the scenario will amaze with all ups and downs, maybe views of France will attract your attention. Whatever the reason is, you have a lot to gain, be it a new perspective or a different mindset, which might lead you to the peak of the most glowing tower in this world.