Top Electric Bikes to Buy in 2023
An e-bike delivers great thrills
Despite what we are going to do quite soon, some two birds chirping and twittering on a tree somewhere far away from here will be totally fine. Even though we have to kill two birds with one stone. Guess what? Those feature-covered egg-laying flying cuties will be absolutely okay. It is just the figure of speech. But there is no better way to describe the action of buying an electric bike than killing two birds with one stone.
An electric bike is a serious upgrade to your daily routine. A two-wheel motor-powered steel horse is one of the most versatile things that you have already got and will ever buy in your life. Rather than a mere purchase, an e-bike is an investment. It is an eco-friendly mode of transportation to commute to work, a fun-making vehicle for cycling around parks, woods, beaches, and just everywhere you want. From full-size immensely powerful monster-beast bikes for rugged and rocky uphill rides to compact folding smooth-path relaxed-ride city commuters, an electric bike effortlessly lives up to our transportation and entertainment needs.
Top 2023 Electric Bikes to Buy
Once you begin to submerge into the world of e-bikes, you realize that finding your perfect sweet horse isn't that easy. The guts of aspects arise, including motor, battery, speed, maximum estimated range, weight, carcass, maintenance, reliability, liquidity, type of bike, and more. It is also reasonable to think about what kind of needs and wants that prospective e-bike of yours will have to fulfill.
As mentioned earlier, an e-bike is rather an investment than a purchase. And here where the main problem may be waiting for you to shave a spade in the wheels of your otherwise happy life. Spending hundreds of dollars on a bike, you don't want to mount the thing and feel a single bit of disappointment and regret.
It is so easy to buy a bike that will overcast you with gloomy clouds rather than make the body pump endorphins into your system. For this investment to leave you undoubtedly satisfied, you ought to check the thoughtfully handpicked list of the top 2023 e-bikes below.
Rad Power Bikes RadExpand 5 Electric Folding Bike
​Source: Rad Power Bikes Canada website
Battery: 672 Wh;
Estimated range – 40-72 km per charge;
Motor: 500W brushless geared hub motor;
Charger: 48V, 2 Amp smart charger;
Controller: 48V, 500W;
Payload capacity: 275 lb.
There is no need for heavy-duty guesswork regarding why this e-bike can be your crush if you like traveling in your car. This bike becomes two times less long when folded. You can easily put it even in a sedan and sail off into the sunset to thrilling adventures.
Featuring a step-through frame, the bike makes the act of mounting a cooling breeze from the early morning ocean. You can get on and off tens of times in the blink of an eye throughout the day. It seems to be a frivolous feature, but once you spend all day riding in search of a lovely spot to do some photo shooting you will find the easy-to-mount benefit of the step-through frame a highly rewarding thing.
RadExpand has all features that befit the modern folding bike – these are adjustable handlebars, four levels of pedal assist, a custom LED display, and seven speeds. You can dramatically extend the single-charge range of your bike when using pedals now and then.
The 672-Wh battery is fast removable. You need no screwdrivers or hex-nut wrenches to take it off the bike. All it takes is just the push of a button followed by an ear-pleasing firm click – and here the battery gets off. In the Replacement Parts category, you can get spare batteries and just every part of your bike if the need for replacement arises.
Get your bike shipped free of charge across Canada. Enjoy 1-year warranty.
Rad Power Bikes RadRunner 2 Electric Utility Bike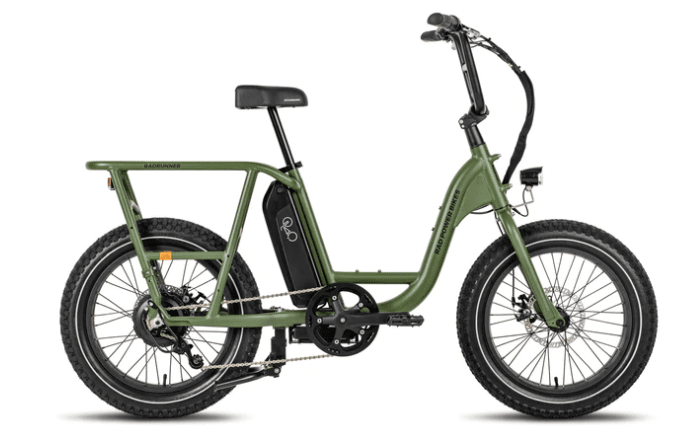 ​Source:Rad Power Bikes Canada website
Battery: 672 Wh;
Estimated range – 40-72 km per charge;
Motor: 750W brushless geared hub motor;
Charger: 48V, 2 Amp smart charger;
Controller: 48V, 500W;
Payload capacity: 300 lb.
The distribution of labor has taken us where we are now – the best time in the history of humankind to live. Advanced healthcare, slim and powerful laptops, press-against-the-seat dynamic electric cars and so many other pleasures of this high-tech computer-era beautiful world. If we all were the jacks of all trades, we would be the masters of none – still living in a cage and having nothing more to do for fun than engaging in rock fights.
Because we aren't the jacks of all trades, we have managed to get smart enough to make one – Rad Power Bikes Canada RadRunner 2 utility e-bike has earned the nickname of the jack of all trades. Known as one of the best affordable coolest all-around do-anything e-bikes, this moped-style horse of steel wins riders' hearts around the globe.
Practical utility meets innovation. Fun meets functional. Style meets safety. All those stories are about this bike. Available for all natures of riders, RadRunner 2 helps you to complete whatever daily tasks you've got to do – office commuting, grocery shopping, walking a pet, and a fun ride up a serpentine mountain biking trail.
For long-haul rides with camping and hiking in mind, you need some stuff. With a need for some stuff in mind, you realize that you can't carry it on your bike unless it is cozily nested in a bag. No problem – with the help of Arkel Canada coupons you will have a bicycle bag for every adventure. Orders over $125 get shipped for free. Get all you need to enjoy endless breathtaking moments of your e-biking adventures.
With the 750W motor, you can easily negotiate all terrains. With the 300lb load capacity, you can reach summits with plenty of stuff strapped to the bike and cozily nested in the rear and front cargo compartments. You can even ride with your pet if those four-legged fluffy little friends of yours don't mind such a thrilling adventure.
Norco Bigfoot VLT 2 Electric Fat Bike
​Source: Norco website
Battery: 540-900Wh;
Estimated range – up to 165 km per charge;
Motor: 250Wh.
Riding this all-terrain two-wheel beast, you can draw yourself into the deepest depth of the far, far away wilds. The bike is the namesake of Bigfoot – it's a large, hairy apelike creature that ambles the most far-off terrains of the most faraway wilds. And with this fat tire e-bike, you stand a good chance of leaving your tire prints next to the footprints of once mythical Yeti – if there is such a creature you will surely be the first to discover one.
Proudly Canadian, the Bigfoot e-bike features 27.5-inch wheels. Here's one of the golden rules of the universe – the bigger wheels, the better. Wheels these bold will let you make treacherous terrain a smooth ride.
The cockpit is tailored to efficient climbing. The progressive geometric secures safe and confident descent along a steep rocky slope. The pedal assist is in there to give you a choice to kill two birds with one stone (again!) – it is to exercise and expand your range per charge.
If you want to rev up your physic and use pedal assist more often – get Horizon Fitness 7.0 IC Indoor Cycle for fully immersive fitness bike workouts. With Horizon Fitness Canada promo codes, you will get your fitness bike at a honey-sweet bargain.
Quick and easily removable batteries will let you ride the Bigfoot longer, covering greater distances. You can select your battery juice – from 540Wh to 900Wh. Invest in a greater range per charge for epic adventures.
There is another reason why they call it after Yeti. Do you remember where this apelike creature is said to live? It leaves in a place where it is freezing to the bone. The e-bike doesn't mind the extreme cold – the hydraulic components, dropper posts, disk brakes, and suspension are cold-weather optimized. They work in a well-oiled fashion even if you go crazy and decide to fly to the North Pole and ride your bike there.
You can get your extreme-cold weather BigFoot at PRFO Sports. This outdoor adventure store offers free Canada shipping on orders over $75 and the lowest price guarantee.
Moustache Samedi 28.1 Open Mountain Eclectic Bike
​Source: PRFO Sports website
Battery: 400Wh;
Estimated range – up to 108 km per charge;
Motor: 250Wh;
Charger: Bosch, 2Ah;
Payload capacity: 154 lb.
Let's start with the in-a-nutshell review of the e-bike. The personality of this electric vehicle features a comfortable position and dynamic ride. This is exactly what you expect of a timelessly classic city commuter. Lightweight (just 22.8 kg) and sleek, Samedi 28.1 deliver pure excitement as you cycle around your neighborhood, parks, and other smooth-path areas.
You can expect classic, got-used-to features of this two-wheel vehicle – replaceable battery, slim style, and built-to-last-decade quality. The rear trunk allows you to strap some needful stuff – lunch boxes, grocery bags, panniers, gym totes, and whatever you can think of fastening to the trunk. We can help you out with strap-things-to-your-bike ideas – check PRFO Sports gear. This is where needful things for your active lifestyle and outdoor adventures always look forward to greeting you.
With a 5-year frame and fork Moustache Bikes and 2-year motor and battery warranty coverages, you will ride Samedi 28.1 with bulletproof confidence.
Liv Rove E+ Electric Bike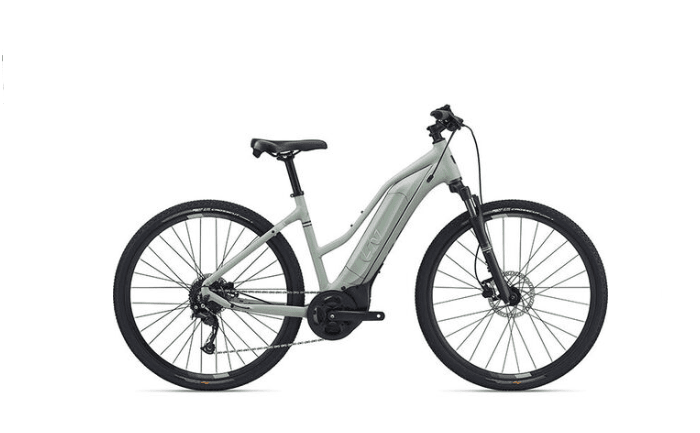 Source: Sporting Life Canada website
Battery: 500Wh;
Estimated range – up to 80 km per charge;
Motor: 250Wh.
Here are just three things over which you will fall in love with this bike at first sight. These include powerful pedaling assistance, a lightweight aluminum frame, and an awesome, sleek-looking style. This bike makes people's jaw drop, so beautiful it is – a true engineering marvel.
Let's peek into the pedal assist – this feature is the greatest pride of this bike and undoubtedly a technological innovation-wonder for the e-bike industry. Rove E+ offers six levels of assistance – you can vary the power of the pedal stroke in the range of 50-300%.
As befits a classic city commuter, the battery gets removed easily and fast. The braking system is failure-proof – you engage the brakes and the bike pulls to a halt dead in its tracks.
Just by looking at the bike, you can set any guesswork aside – it is a sleek and slim bike for women. And it is indeed. The women-specific geometry and contact points, and lower standover height make the bike a perfect fit for women – getting off and on feels like a cooling ocean breeze, so effortless it is.
Get this high-tech, sleek beauty of Rove E+ at a discounted – use Sporting Life Canada promo codes to enjoy eye-catching prices.
An electric bike is nothing short of great thills. It is a lifetime companion that will always be there just for you. It will take you to an office, a grocery store, and high up in the mountains to marvel at majestic views. It is your best friend that brings pleasure to your life. With the thought-out list of the best 2023 electric bikes, you will find a steel horse that fits your lifestyle. And you ought to bear in mind that every bike, spare part, and accessory you buy, all those purchases have one thing in common – they qualify for discounts. With our help, you will have the best e-bike deals at your fingertips for cost-efficient e-bike shopping.